What's New
Operation Cyanide Executive Summary
EXECUTIVE SUMMARY
GRAVE CONSEQUENCES: Operation Cyanide
How Operation Cyanide Nearly Started WWIII
"We Don't Need Poison; We Need a Truth Serum"
© Iona Miller & Charles W. Stone, Cryptoporticus Productions, 2010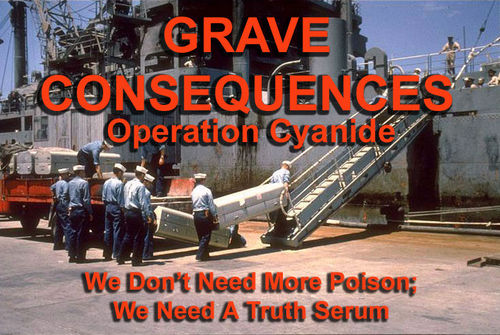 FOR INFORMATION ONLY: This proprietary memorandum is informational in nature and relates to the packaging, production and distribution of the dramatic property Grave Consequences, written by Iona Miller and Charles W. Stone. It is for your confidential use and consideration only, and may not be reproduced, sold, or redistributed without explicit prior approval of Cryptoporticus Productions.
"The movie industry keeps getting richer and richer. The market for movie entertainment has grown exponentially, and so have the potential rewards for big hits." --Forbes
THE STORY
Independent Feature Film - A high concept twist combining action adventure, suspense, and docudrama surrounding a failed false-flag attempt to drag the Cold War Superpowers into the Six-Day War. The covered-up incident – Operation Cyanide, an attack on the USS Liberty spy ship -- is a little-known milestone in history that nearly precipitated WWIII. This Covert Action led directly to escalation of Jihad and terrorism as well as increasing US involvement in the Middle East. It is a tale of collusion, betrayal and heroism that won the Medal of Honor. Like the Gulf of Tonkin and Maine incidents, false flag operations are used as pretext for shooting wars. But who today remembers the USS Liberty and its sacrificed crew? This based-on-fact film is a social issue picture, reflecting "the break up of consensual views of social reality" in a postmodern world. But, "Liberty" is always relevant.
OVERVIEW
Cryptoporticus Productions is an entertainment enterprise promoting production of feature-length films for theatrical release. Our stories can be produced as "headline-based" fiction -- docudramas -- or factually-based documentaries. Our group of insightful investigative insiders has a unique perspective on world events, clandestine activity and "deep politics." http://cryptoporticusproductions.iwarp.com/index.html
Distinct from the main line of historical fiction, in which the historical setting is a mere backdrop for a plot, docudramas demonstrate some or most of the following characteristics:
A focus on the facts of the event being treated, as they are known;
The use of literary and narrative techniques to flesh out or render story-like the bare facts of an event in history;
A tendency to avoid overt commentary and explicit assertion of the creator's own point of view or beliefs.
Cryptoporticus is currently seeking private funding for production of the dramatic motion picture property GRAVE CONSEQUENCES. The film is commercially exploitable to a mass audience through theatrical exhibition, pay-per view, cable broadcast and all home-video formats, including HD and Blue Ray. Outstanding funding required for completion.
OBJECTIVES
Our goal is to make "movies that matter" - quality, intelligent, commercial films - on modest, cost-efficient budgets. We know how to handle controversial subjects to unpack their stories with emotional logic, without placing "blame," allowing audiences their own point of view and conclusions. Corrosive secrets are issues that remain or return to relevance. Rather than "fictionalizing," we illustrate the truth. Conspiracy and "truth" films have gone mainstream. Espionage films remain perennial favorites with wide audiences. "Dramatic license" leaves interpretation open.
The founders of Cryptoporticus Productions bring vision, passion, dedication, and a wealth of talents and experiences to the company. The principals are professional activists and writers with intelligence, promotional, and publishing backgrounds. Our content-driven stories are geared to push the product through all domestic and international venues including U.S. Theatrical, Foreign Theatrical, domestic and foreign network television, video and DVD sales, cable, pay per view and satellite. Our mission is to create valuable feature film products that will generate highly-attractive ROIs for our investors. Obscure, small movies routinely make from two to ten times their investment.
DOCUDRAMA PROJECT
Grave Consequences; Operation Cyanide is an expose that lifts the lid on hidden history that led to 1960s escalation of both US interests and Jihad in the Middle East. Operation Cyanide and the attack on the USS Liberty is an action-packed, covered up incident that could easily have erupted into WWIII and directly lead to escalation of Arab hostilities, including terrorism, toward the West and its interests. It created sentiments which led to al-Qaida.
Without placing blame, the film outlines the complex military and intelligence interaction of the US, Soviet Union, UAR (Egypt), Syria and Israel surrounding the Six-Day War, particularly a failed false-flag attempt by joint US-Israeli intelligence, in response to a Soviet-inspired attempt to destroy Israel's nuclear capacity and sovereignty. The issue remains diplomatically sensitive, but the public is hungrier than ever for fact-based, unsanitized history that outlines The Big Picture that continues to affect our daily lives in tangible ways. These facts would have been torn from the headlines, but they were concealed. The survivors of USS Liberty still await their "rightful" historical place.
Docudramas recreate reality and can be used to explore social and national history. One need only think of the battles fought over docudramas like Oliver Stone's JFK (1991) or Nixon (1995), In the Name of the Father (1993), Malcolm X (1992), Schindler's List (1993) and "W" (2008) to see the heat which docudrama generates. The docudrama has become a culturally important form which is the site of political battles over the nature of "truth," "reality," and the media manipulation of history and everyday life. This is not a movie-of-the-week biopic, but a film from an inside view of how it might have happened, with the potential for lasting global and artistic importance. The representation of reality is not equal to the reality it represents. But docudrama does make claims to provide a fairly accurate interpretation of real historical events. In other words, it is a non-fictional drama.
Docudrama argues that lost or elusive moral perspectives can be regained. Functional distortions include created dialogues among characters, expressions of internal thoughts, meetings of people that never happened, events reduced to two or three days that actually occurred over weeks, and so forth. While the actuality a work recreates may show the exercise of right and wrong thrown into jeopardy, the docudramatization of actual people, incidents and events ultimately restores a sense of a moral system at work. The world here can still be a place where on some scale, in some way, the struggle for a balance between right and wrong attains coherence.
Standard dramatic formulas from mainstream film and television apply wholesale to representing history. These conventions include a goal-oriented protagonist with clear motivations; a small number of central characters (two to three) with more stereotyping for secondary characters; causes that are generally ascribed to personal sources rather than structural ones (psychological traumas rather than institutional dynamics); a dramatic structure geared to the length of the program (a two-hour movie might have the normal "seven-act" structure); and an intensification of emotional ploys. The desire for emotional engagement by the viewers (a feature valuable for maintaining the audience through commercials) produces an inflection of the docudrama into several traditional genres. In particular, docudramas may appeal to affects of suspense, terror, or tears of happiness or sadness.
STRATEGY
Critical quibbling aside, the docudrama is one of the most popular and lucrative genres in North America, perhaps because it blurs the boundaries between reality and fiction and in the process generates an emotional hyperreality that brings the audience into the event. Such fact-based documentaries and docudramas are suitable for submission to Sundance Film Festival, Cannes, Toronto and several other major international film festivals that create a buzz. Such films are marketable to all major film markets, including North America, Europe, Asia, NAPTE and American Film Market in Los Angeles. Quality independent films and insightful documentaries have grown their market-share over the last decade. A well produced independent film can maintain high production standards while keeping costs low in comparison to films created by the major studio system.
Foreign markets comprise more than half of a film's revenue, so our emphasis is on storylines that have interest on all continents. Popular and profitable documentaries have proven that people will go see intelligent movies that strip away propaganda and historical lies. Controversy sells tickets and becomes a built-in aspect of PR. Other options with growing markets include Non-traditional Films, Large format films, direct-to-DVD movies, and small screen films, each having unique market characteristics.
TARGET MARKET
The theatre-going general public thrives on action films with a story. We will do everything in our creative power to make this revealing film receive a rating PG-13 from the MPAA so that it could be suitable for teenagers as well as our primary target audience, which are males 18-65 years of age. All completed films have a significant value in the international marketplace.
STAGES OF PRODUCTION
The budget will cover all stages of production from pre-production to principal photography and post-production, including sound and editing, public relations and marketing campaigns during post-production and after the film's completion, music clearances and rights, composer, insurance, completion bond, contingencies, and cast. Budget minimum and maximum are cast contingent.
Author and film attorney Mark Litwak says the Hollywood moviemaking system is a complex and cumbersome machine, rife with waste. Producer Arnon Milchan (Pretty Woman, JFK) says no one in Hollywood really knows what they´re doing, and nine out of ten decisions made there are wrong. Only a strong seller´s market could support such incompetence and inefficiency. Producing quality, cost-effective movies on modest budgets will ensure even greater profitability for us, because production costs can not be passed on to the customer. Litwak also notes that most of those in the industry don´t have much to say, while we do.
Script
SCRIPT SYNOPSIS
Opening scene: The spymaster liked his mistresses as "modern" as he wanted to make his country. In the "swingin' 60s" apartment of his favorite lover, a very tense Salah Nasr is half dressed, heatedly talking on the phone with his Soviet counterparts. Hurling his shoe through a closed window, he vehemently punctuates Egypt's urgent desire to push not only "the envelope," but their target – what his psyops calls "the Zionist entity" -- into the sea, once and for all. The underwater cable crackles with static that is not so unusual for the times. But alert to all espionage potentials, Soviet intelligence on the far end naturally wonders if their seemingly secure phone line has been compromised.
Cut to a "Guppy" submarine in international waters off the Northern Sinai Coast. Frogmen just bugged the undersea cable. They know the Soviets have amassed nuclear submarines off the coast of Israel. NSA cryptographer Lt.-Commander Schleicher rapidly decodes the crucial conversation in case the US needs to take immediate retaliatory measures on Cairo, conventional or perhaps, unthinkably, nuclear… Little do they realize that they and the topside USS Liberty are sitting ducks slated for human sacrifice in a draconian plan to blow the Soviets all the way back to Moscow leaving a clear path to Middle East oil for the West – an ill-fated Operation Cyanide.
Cut to a clandestine meeting in the dark labyrinths of Washington DC. An insider military/intelligence faction argues among themselves with a Mossad agent over what to do next and what they CAN tell the President and maintain deniability… Meanwhile, the USS Liberty is locked in the gun sights of a power trap of competing agendas, target of a Goliath international power struggle. The result is more than a very embarrassing truth. A murderous air and sea attack ensues that leaves the sitting duck Liberty a floating bloodbath, dead in the water.
It actually happened, at least something like that. Salah Nasr headed Egypt's General Intelligence Directorate from the late 1950s until 1967, when he was arrested and tried after the Six-Day War. Shortly after the womanizer's death, his mistress published her memoirs revealing intimate details of how he exerted significant control on Egyptian President Gamal Abdel-Nasser by throwing in his path real and imagined coups, assassination and terrorist plots all of which he was responsible for foiling. According to Arab rhetoric, Israel had no right to exist. Utterly destroying Israel and "reversing the results of 1948" was the central goal. Prestige and leadership of the Arab world were based on aggressive confrontation of Israel. In the Six-Day War, Israel responded decisively to the imminent threat in a war with Egypt, Jordan and Syria.
In 1967 it sure wasn't the Summer of Love in the Middle East. That June the USS Liberty, the world's most advanced NSA spy ship, was viciously attacked and nearly sunk by Israeli firepower during the Six Day War. Was it Israel's "fault" or was there some collusion with US intelligence denied for political purposes? The Cold War was at its height and the US wanted the Soviets out of the Middle East in the absolute worst way – perhaps even enough to risk WWIII. This little known event is in the same class of Covert Actions as the failed Bay of Pigs Invasion and Gulf of Tonkin Incident which also took place in the 1960s decade.
Had it been revealed, OPERATION CYANIDE meant certain political suicide for the Johnson Administration. The veil of absolute secrecy still conceals the betrayal of USS Liberty's military and intelligence personnel, who were silenced for decades in the name of national security. Only the most valorous acts of courage saved the remaining crew and the ship from disappearing into the Deep with all her secrets including the newly deployed Moon Bounce Antenna.
But they did not die, despite the fact that air support was withdrawn. Furthermore, a US submarine also conducting espionage surveillance in the same area, briefly surfaced to periscope depth to catch photos of torpedo damage. The battle sounds were so loud that the submariners thought depth charges were being deployed against them. Questions that last a lifetime remained for the surviving crew of Liberty after the needless deaths of 34 of the crew and over 170 seriously wounded. The courageous Captain had to tuck his own guts back in after the bridge of the ship was blown up, while he continued to man the Conn for a stunning 17 hours that the Liberty was literally "dead in the water."
The BBC and other media have occasionally covered the story, but recently new disclosures and revelations have expanded the story. No dramatization has ever been done, because both US and Israeli governments have covered up the truth with the "plausible deniability" that the attack was a case of "mistaken identity". Now, many influential government and military personnel say it absolutely isn't so. We have the facts and the story wants to be told so the world knows what happened and what horrible consequences nearly ensued.
DEVELOPMENT PHASE
The synopsis (above) was shopped at NAPTE, 2010 where it was determined better suited to feature film development. It has been extensively researched with core content and characters identified. We have contacted some of the surviving participants for personal stories. A recontextualization has generated publication interest. Online versions of the story have drawn positive response.
The backstory is summarized at http://ionamiller2010.iwarp.com/whats_new_28.html
The core drama and timeline is outlined at http://ionamiller2010.iwarp.com/whats_new_27.html
An un-narrated illustrated video sketch is viewable at http://www.facebook.com/video/video.php?v=263777981595 and can be sent upon request.
DISTRIBUTION
Upon securing first monies through private financing, the Grave Consequences Company will seek out pre-sold distribution or negative pickup with a letter of agreement or letter of credit from interested distributors to assist in putting together the total budget for the picture. At present, all rights (including theatrical, cable, broadcast, pay-per-view, home-video, and international) are available.
In a seller´s market, every distributor wants to outmaneuver their competitors and acquire the few commercial independent films available at any given time. Given the scarcity of exceptional, excellent, or even quality ones, we anticipate a lot of competition for all our films, especially GRAVE CONSEQUENCES, which has the potential to ignite a rather fierce bidding war.
COMPANY, CAST, CREW
BUDGET
RISK
INVESTMENT OPTIONS
EXECUTIVE MANAGEMENT TEAM
FINANCIAL SUMMARY
Almost all film markets are expanding, and because of new technologies such as HD-DVDs, are also growing in number. So although a U.S. theatrical release is still the initial target, this now accounts for only about 11% of a film´s revenues. Home video, rentals, cable, pay-per-view, and other ancillary domestic markets constitute another 38%. Foreign markets now comprise 51% or more of a film´s revenues and are steadily increasing. So even if a film doesn´t do well at the box office here, it can still be very profitable. In fact, there are many companies producing moneymaking films that aren´t even intended for U.S. theaters. The number of film releases has remained relatively steady while the number of movie screens has increased dramatically.
Outstanding funding required for completion: $XX Million.
If you are an investor interested in this project, please contact Charles W. Stone at newsource_us@yahoo.com or [insert phone #]. Cryptoporticus Productions appreciates your time and consideration.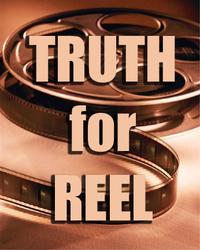 PRINCIPALS
CHARLES W. STONE is an entrepreneur, investigator and writer in Washington D.C., speaking and publishing internationally on weapons of mass destruction, pandemics, global mind control, biowarfare, WWII arcana, Constitutional rights, due process in education, health care reform, and other Federal operations. Freedom, accountability, fairness and Constitutionality are his issues. As Deputy Director of D.C. thinktank Mankind Research Unlimited (MRU), he worked with the Federal Government to apply innovative approaches to national problems including AIDS, drug and alcohol abuse, cancer and more. From the early '70s, MRU pioneered psychotronics, biocybernetics, biophysics, psycho-physiology, accelerated learning, psi and mind-body research.
IONA MILLER is a researcher, filmmaker, and popular writer in future science, intelligence, and esoterics. She analyzes the collective psyche and cultural effects of geopolitics, religion, science, art and psychology. This 'spywhisperer' has appeared in international magazines, authored several books and international publications. A futurist, analyst, and consultant, topics of this "Meta Hari" include social engineering, pop culture, psychology, "deep politics" and espionage. In an arena where it is nearly impossible to unravel "the truth," rather than pursuing unprovable minutiae or untraceable connections, she analyzes general trends visible to all with a startling, unique viewpoint. Ms. Miller is published by Phanes Press, Destiny Books (Inner Traditions), Autonomedia, Nexus Magazine, Paranoia Magazine, and more. She is SVP of the Media Dept. of the Washington D.C. security firm LOA and is also a radio and podcast personality with a lively online following. Contact: